As you know my products of choice for the second month of operation nail growth have came from the Pro Strong range. Exclusive to QVC in the UK - this is unlike no other nail growth / strengthening system that I have seen on the high street.
Formaldehyde, Tolulene and Dibutyl Phthalate (DBP)free Pro Strong is one of the only nail care systems that focuses on the concept of fluoride - Fluoride keeps the layers of nails (made of keratin and calcium) bonded together to keep them healthy and strong. The Pro Strong system contains essential mineral such as calcium and of course fluoride which bonds to your nails to encourage them to look and feel healthier and stronger.
The Pro Strong regime focuses on three main must have products but as with most systems there are several other items that you can integrate into your regime for greater results.
The three core products that are central to the pro strong system are the Fluoride Nail Strengthener, the Triple Strength Nail Moisturizer with Peptides, and the 3 in 1 Reinforcer Fluoride Base, Top and Nail Strengthener
Pro Advanced Fluoride Nail Strengthener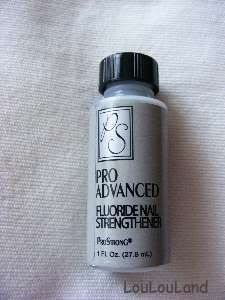 This is the key product in the Pro Strong range. This core product gives a fluoride boost to your nails when you apply it and every time you wash your hands.
It's a clear water like liquid that you apply to you nails maximum twice a day over or under nail polish - it soaks in quickly leaving you with a naked nail ideal if you can't wear nail polish for work etc. Pro Strong claim you can use it on a naked nail or over polish I personally find though that it can make your nail polish peel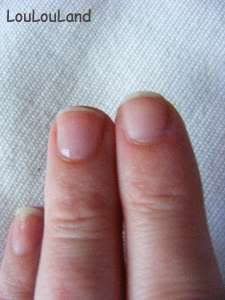 Pro Advanced Triple Strength Nail Moisturizer With Peptides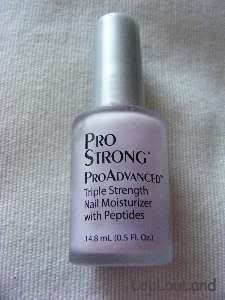 This is Pro Strong's key nail and cuticle moisturiser -This is a thin lilac cream, with no real smell - you apply this with the brush to your nail and cuticle area after applying your fluoride treatment and as needed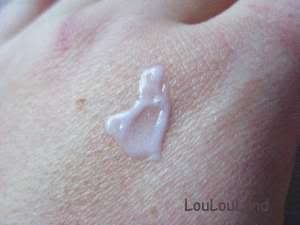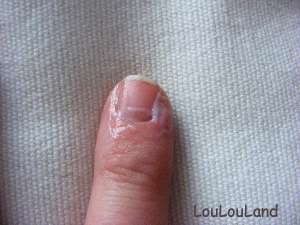 Although it absorbs easily without greasiness I have to admit I don't personally find this that moisturising - it didn't seem to make much of a difference to my cuticles etc. on it's own -I prefer an oilier cuticle treatment
Pro Advanced 3 in 1 Reinforcer Fluoride Base, Top & Nail Strengthener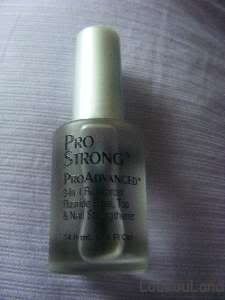 This is the third core product in the Pro Strong system - a clear looking varnish that you can use as a top and base coat - again it's fluoride enriched to aid nail health and to help strengthen - I liked this it was a good all rounder and it dried quickly to a nice glossy finish that refreshed every time you washed your hands.
Pro Strong claim that these 3 products will make a big difference to your nails and I have to say it is by far one of the quickest regimes I have ever used - the fluoride treatment and moisturiser takes the maximum of two minutes a day! The Pro Strong range though also contains several other products that you can use to maximise the speed and effects of the treatments. I didn't use everything I the range but I did use some other Pro Strong products over the course of this month
BioFusion Nail Grafting System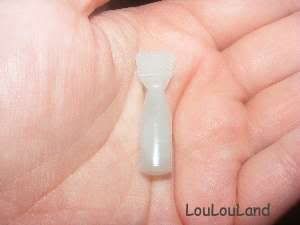 This is one of Pro Strong's newest inventions - designed to thicken the nails by up to "35%" - these are tiny little ampules of serum that you snap open and apply to your nails after the fluoride treatment -you pat the serum over the surface of your nails and leave it for up to 10 minutes to absorb - you then apply another coat of fluoride over the top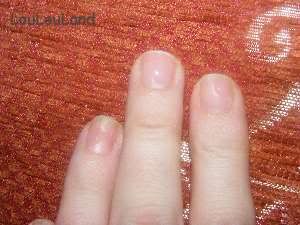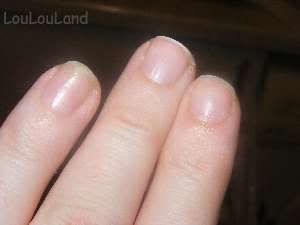 I don't know if this did help to thicken my nails but it certainly evened the surface up - peels and ridges were definitely minimised
Pro Cal Calcium Nail Supplement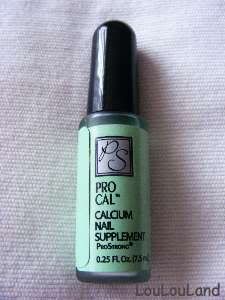 This is a treatment you can integrate into the Pro Strong regime if your nails are super soft and weak - again a water like liquid -you apply this turquoise solution to your nails in between coats of the fluoride treatment
Pro Quench Barrier Cream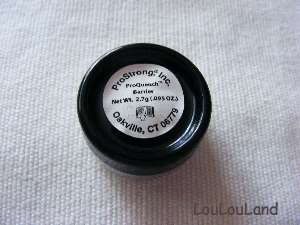 This is Pro Strong's overnight nail / cuticle treatment - an apricot smelling balm which I rubbed into my nails every night it smells lovely but again I thought this would be more moisturising than it actually was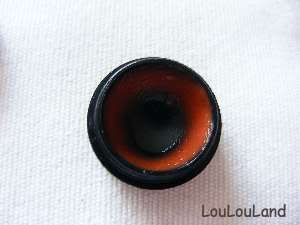 Pro Moist Hand Cream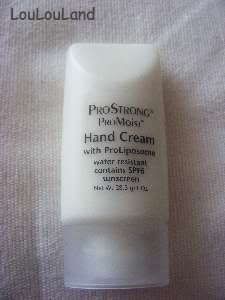 This is a funny one - again enriched with the Pro Strong fluoride and liposomes - this is quite a thick cream which you use as normal by applying it and rubbing it in to your hands - it absorbs quite easily but it does seem to leave a bit of a film on your hands- you need to apply this at least 15 minutes before your put your hands in water because when you do the cream is revived and you get a moisture / fluoride boost from the reaction with the cream :) I actually quite liked this I felt my hands were protected and they were quite smooth- it also contains an SPF which I liked - the only thing I wasn't sure about was the smell it was quite chemically :(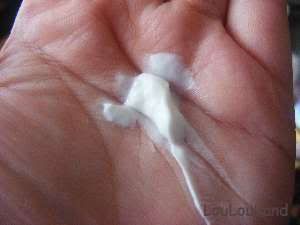 Pro Strong also make lots of other products including nail bonders, wrap in a bottle, polish removers, and nail polish - you can see my nails of the day using Pro Strong
here
All in all as I said in the last post I have to say I like the range I think it really has made a difference and if your stick to the basic regime it's super quick too. Pro Strong is exclusive to QVC in the UK -
check of the range here
. If you have any more questions please ask xx
(Just too add I bought all these items myself and I haven't been asked or compensated in anyway for doing this post)